Essential oils truly are an ancient remedy with uses reported as far back as 4500 BC. The Ancient Egyptians are believed to have been the first to use essential oils for their healing benefits, using them in cosmetics and ointments for a variety of uses.
In more recent times, essential oils have only increased in popularity with more and more people using them to support natural health and wellbeing. Essential oils are a wonderful remedy used to promote a sense of wellness. From diffusers to massage to inhalation, there are many ways for you to experience the calming ambience created by essential oils. If you're suffering from anxiety, there are several essential oils that can provide support and encourage relaxation. These remedies not only smell incredible but can have a hugely positive effect on mental health and wellbeing too.
WHAT ARE ESSENTIAL OILS?
Essential oils are plant compounds that have been highly concentrated in order to produce an effect. This effect is typically achieved by massage, diffusion or inhalation. Always take some care when using essential oils - they are not intended to be ingested and should be diluted in a carrier oil or cream before being applied to the skin.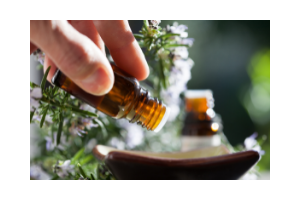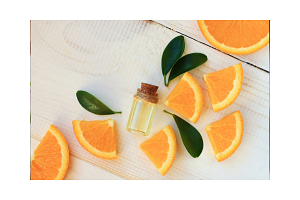 OUR TOP 6 ESSENTIAL OILS TO EASE ANXIETY:
1. Lavender Oil
Probably the most well-known of all the essential oils, and with good reason! Lavender boasts a wide array of benefits but is also a popular choice for those looking to use lavender oil to combat anxiety. This essential oil is not only believed to ease anxiety and stress, but also promotes overall emotional wellbeing.  A 2012 pilot study showed that aromatherapy using lavender oil can even help soothe anxiety in postpartum women who were deemed to be high-risk (1). Researchers found that twice-weekly, 15-minute-long aromatherapy sessions helped reduce anxiety as well as alleviate symptoms of depression
2. Bergamot Oil
Another popular aromatherapy oil for relieving anxiety is Bergamot. This citrus oil is extracted from the rind of the oranges to produce an uplifting and calming aroma. A study in 2013  found that aromatherapy using bergamot essential oil reduced anxiety in people awaiting minor surgery (2), indicating bergamot's usefulness in 'event anxiety'. Simply add a few drops to your diffuser to create a sense of calm and peace throughout your home.
3. Rose Oil
In addition to reducing feelings of anxiety, Rose Oil has also been shown to reduce blood pressure and cortisol levels (3) - both of which typically increase during anxiety. Inhaling Rose vapour by using a diffuser can be a great way to feel the soothing effects of this wonderful oil.
Frankincense oil has been used for centuries due to its grounding and calming effect. One study (4) found Frankincense was able to negate the effects of stress. This is thought to be in part, down to its unique ability to reduce sleep debt, which may result in an increased ability to manage stress more effectively.
5. Vetiver Oil
Native to India, Vetiver essential oil promotes a feeling of tranquility. It has a sweet, earthy scent similar to sandalwood. It can promote relaxation and feelings of well-being. 
6. Ylang Ylang
Thought to have mildly sedative properties, Ylang Ylang is both calming and uplifting. Ideal for beating off feelings of anxiety and helping to raise your mood, Ylang Ylang can further reduce blood pressure and cortisol levels. (5)
References
1. Conrad P, Adams C. The effects of clinical aromatherapy for anxiety and depression in the high risk postpartum woman - a pilot study. Complement Ther Clin Pract. 2012 Aug;18(3):164-8. doi: 10.1016/j.ctcp.2012.05.002. Epub 2012 Jun 27. PMID: 22789792.
2. Ni CH, Hou WH, Kao CC, Chang ML, Yu LF, Wu CC, Chen C. The anxiolytic effect of aromatherapy on patients awaiting ambulatory surgery: a randomized controlled trial. Evid Based Complement Alternat Med. 2013;2013:927419. doi: 10.1155/2013/927419. Epub 2013 Dec 17. PMID: 24454517; PMCID: PMC3877597.
3. Mohebitabar, Safieh et al. "Therapeutic efficacy of rose oil: A comprehensive review of clinical evidence." Avicenna journal of phytomedicine vol. 7,3 (2017): 206-213.
4. Okano S, Honda Y, Kodama T, Kimura M. The Effects of Frankincense Essential Oil on Stress in Rats. J Oleo Sci. 2019;68(10):1003-1009. doi: 10.5650/jos.ess19114. PMID: 31582666.
5. Kim IH, Kim C, Seong K, Hur MH, Lim HM, Lee MS. Essential oil inhalation on blood pressure and salivary cortisol levels in prehypertensive and hypertensive subjects. Evid Based Complement Alternat Med. 2012;2012:984203. doi: 10.1155/2012/984203. Epub 2012 Nov 19. PMID: 23259002; PMCID: PMC3521421.