Haymax Pollen Barrier Balm Pure - 5ml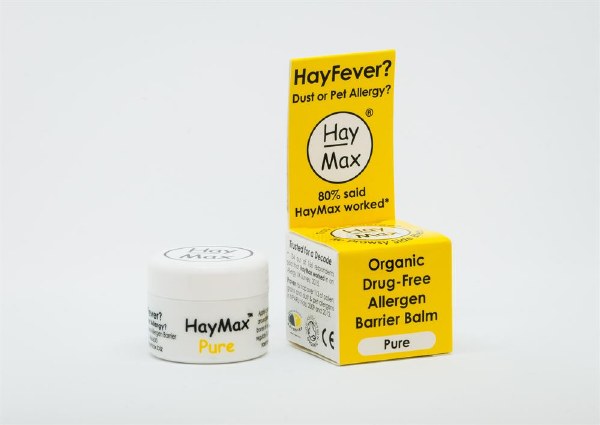 HayMax
Haymax Pollen Barrier Balm Pure - 5ml
£7.10
Size: 5ml
HayMax™ Pure is an award-winning pollen barrier designed to trap allergens using natural ingredients.

HayMax™ Pure (approx 5ml) - contains no essential oils. We were asked for a version with no added fragrance or essential oil by many people. So if you're sensitive, but need to block the pollen, then choose HayMax™ Pure.

HayMax™ is an organic, drug-free, pollen barrier balm to help bring relief from these symptoms. Made from natural ingredients, trials have proven that this award-winning balm helps trap pollen, dust mite droppings and animal dander. When applied to the nostrils, it traps a proportion of the allergen which would otherwise travel up the nasal tract, where it then causes the reactions. The balm works under the principle that if enough is trapped, this will keep you below your sensitivity or trigger level so the reactions for that allergen will not be triggered.

HayMax™ is made from a base of organic beeswax and seed oil, blended with essential oils. These ingredients are certified organic by Soil Association.

Using Haymax Pure Organic DrugFree Pollen Barrier

Apply a small amount (invisibly) to the nostrils
Can be used with other medication
Suitable for children and pregnant women

Directions for Use:
For both adults and children - Apply small amount at bottom of nostrils. Re-apply regularly or when needed. Some people find one application in the morning is enough, others apply every two hours. No maximum. Like a lip balm, one pot lasts for ages however much you use it.
Ingredients:

Soil association certified Organic Sunflower oil, Soil association certified Beeswax.
Advisory information:

Do not take internally.