Anderson's Scottish Heather Honey - 340g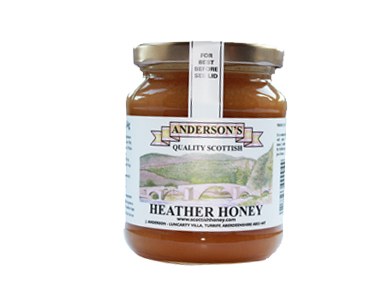 Anderson's
Anderson's Scottish Heather Honey - 340g
£7.75
Size: 340g
• Scottish Heather Honey
• Produced in Turriff, Aberdeenshire
• 100% pure, raw & unpasteurised
• Aberdeenshire local honey

Exquisite and highly sought after, Scottish Heather Honey has a distinctive aromatic flavour with tangy, slightly bitter notes. Heather honey has an extremely viscous texture but be can turned liquid by stirring.
Infact, the viscosity of heather honey is so high that extracting the honey from the comb becomes very difficult! Anderson's Scottish Heather Honey is extracted by pressure since extraction by centrifugation would harm the comb.

Scottish heather honey is a rich source of the key mineral manganese, containing up to 10 times that of other honey - including the well-loved Mankuna honey.
Use Scottish heather honey to make delicious honey cake, add to hot drinks, spread on pancakes, crumpets or toast; or just indulge in its natural sweetness straight from the jar.

Due to the risk of soil contamination, honey (and other liquid sweeteners) is not suitable for children under 12 months.
Bell Heather (Erica Cinerea) is in flower in July and forms a minor part of the product but imparts to it a darker hue. Ling Heather (Calluna Vulgaris) is the principal component and our main crop at Anderson's each August.

100% pure honey
Raw honey Natural
Unpasteurised
Local product
Scottish honey