Om Lion's Mane Mushroom Powder - 60g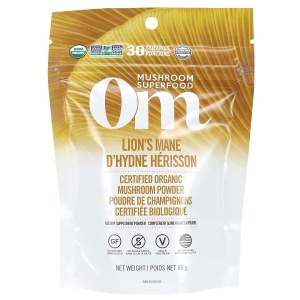 Om
Om Lion's Mane Mushroom Powder - 60g
£19.99
Size: 60g
• Organic Lions Mane Mushroom Powder
• Full spectrum mushrooms
• Trasnsparent ID testing
• No synthetic or artificial additives
• Recommended use: add 2 grams to juices or smoothies


Nutritional support for your brain and nervous system, Om's certified organic Lions Mane Mushroom powder is a fully traceable Lions Mane supplement which can enhance your focus and sharpen your clarity of thought.

Completely free from synthetic and artificial additives, these full-spectrum organic mushrooms grow through their full life cycle (including myceliated biomass and fruit bodies) before being gently deydrated.
Om`s state of the art facility uses low tempaeratures during dehydration, in order to preserve the enzymatic activity and increase the nutritional benefits when the mushrooms are used.
Directions for Use:
Add 2 grams (approx. 1 tsp) daily to super your smoothie, mushroom your matcha, boost your coffee and nourish your recipes.
Ingredients:
Organic Lion`s Mane (Hericium erinaceus) mycelial biomass and fruit body powder cultured on organic whole oats (Avena sativa).